Trek E-Bikes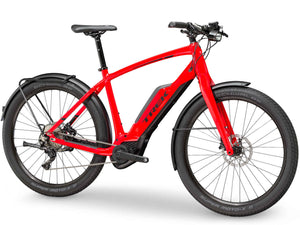 Sometimes you'll ride for fun, sometimes you'll ride for fitness, and sometimes you'll ride just to get from A to B. No matter how you spend time in the saddle, e-bikes offer unique solutions to the challenges of any ride. These bikes are all about possibility. 
On- or off-road, they're perfect for those who want to climb faster, explore more, or just get there a bit faster. 
Only e-bikes offer the flexibility to get in a workout, ride with a faster friend, haul a heavy load, or simply cruise. Even if your ride varies from day to day, an electric bicycle always gives you the option to do and experience more
Trek electric bikes amplify your own pedal power. Our e-bikes are pedal-assist bikes, which means there's a motor that helps the pedals turn when you're riding, but no throttle like a motorcycle or dirt bike. When you're pedaling, the e-bike gives you a boost. When you stop pedaling, the bike stops assisting.




Trek E-Bikes